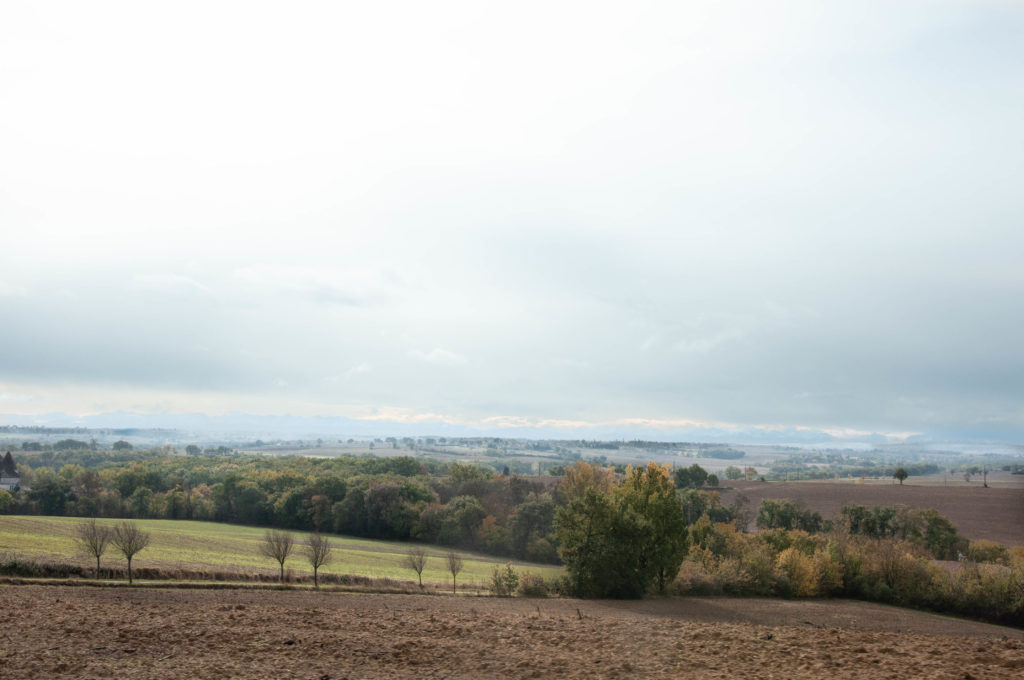 The Etuverie transforms only organic garlic from South West of France (Lomagne). Limestone clay soils and a favorable climate make the Gers region ideal for garlic production.
See our black Garlic recipes below.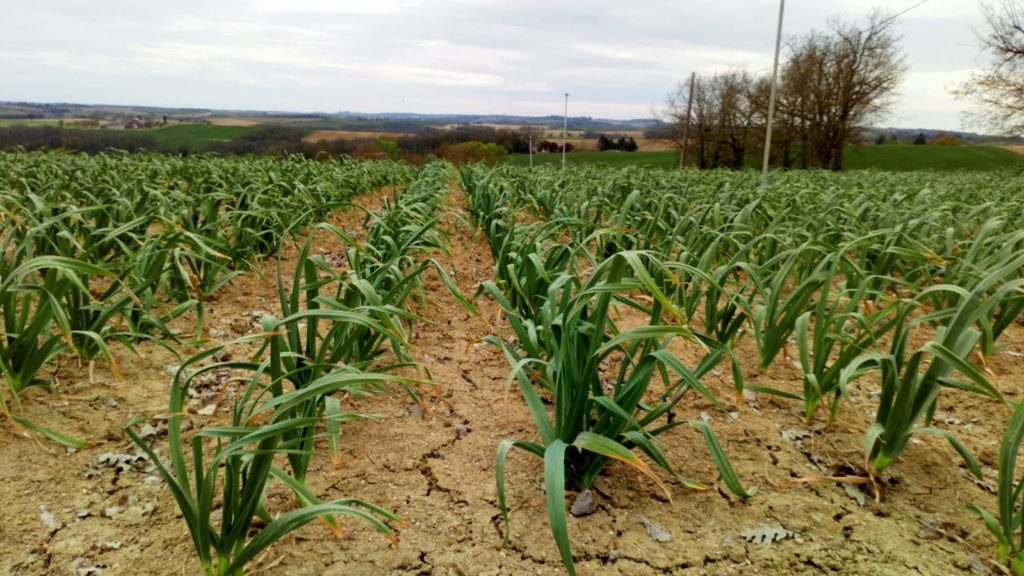 Although all of our organic garlic comes from local producers and is transformed in the heart of the Gers region, the technique itself hails from an ancestral Asian tradition, which Japan and Korea continue to fight over.
Black garlic is obtained by steaming white garlic in a closed-off environment in which the temperature and humidity are carefully controlled and adjusted throughout the process. Several natural chemical reactions result in changes in the product's appearance, taste, and texture.
White garlic spends approximately 2 weeks at a temperature between 60°C and 80°C with a humidity level ranging from 70% to 95%. It becomes tender and soft and turns its characteristic ebony color.
At this stage, the black garlic has yet to develop all of its flavors. It will need another 2 to 3 weeks of drying to reach full maturation.
No additives are therefore used in the production of black garlic, just a combination of completely natural and controlled chemical reactions.
1. 100% organic garlic produced in South West of France
2. Steaming for 3 weeks at controlled temperatures and humidity levels
3. Monitored maturing to guarantee consistent and optimal quality
Many people incorrectly describe this process as "fermentation." In fact, all fermentation processes require the presence and effects of a microorganism (or microorganisms) that is responsible for the fermentation (ex. yeast for making bread, wine, or beer). This is not the case for black garlic.
However, other compounds – enzymes and carbohydrates – in white garlic do react.
The garlic first undergoes enzymatic degradation, natural reactions that lead to the browning of the cells. You can also observe this reaction with overripe bananas or bruised pieces of fruit.
Secondly, thanks to the temperature and humidity, the natural sugars in garlic caramelize to give the black garlic its flavor and unique aromas. This step, called the Maillard reaction, is completely commonplace and natural, but it is highly sought-after in cooking for the aromas it brings to different foods. The smell and taste of grilled meat, a well-roasted chicken, or even the crust of your baguette are all thanks to the Maillard reaction.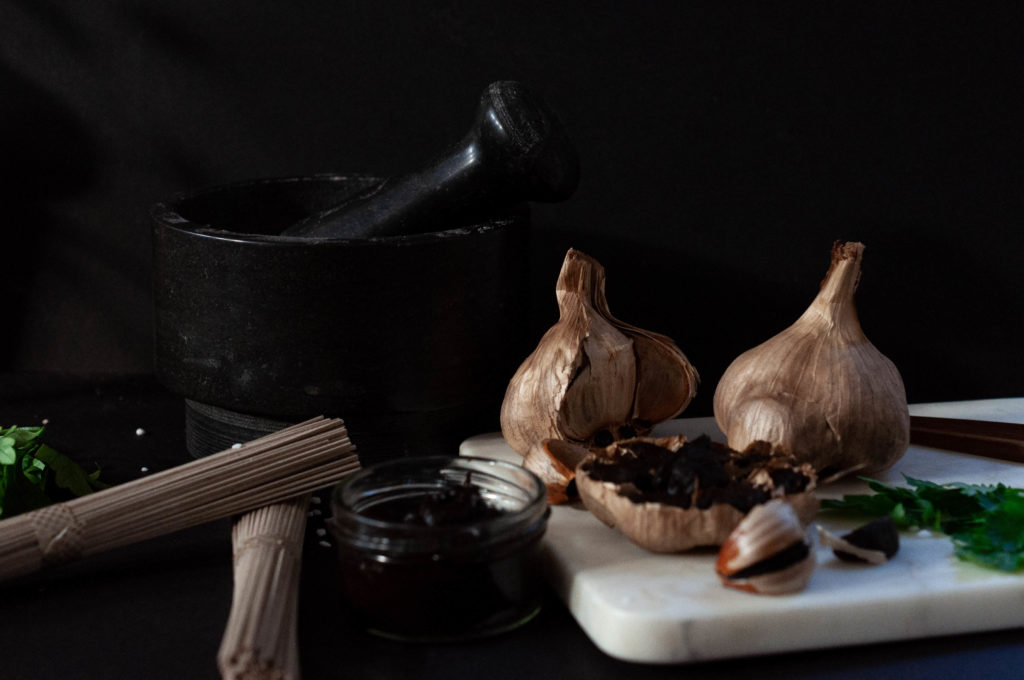 A superfood with a unique taste
Why eat black garlic?
First of all, for its exceptional nutritional qualities (antioxidant, immunity booster, protects the cardio-vascular system, antiviral, antibacterial, supports the liver and neurons, full of vitamins and minerals, etc.)
Due to all of its benefits, the WHO recommends it for regular consumption.
But also for its sweet taste and melt-in-your-mouth texture.
Black garlic is a great addition to numerous recipes, but can also be eaten as is. In sauces, marinades, purées, or in fine slices in your pasta… It pairs well with all types of meat, cold meats, foie gras, fish (such as sole, monkfish, or sea bass), and crustaceans. For those with a sweet tooth, it is an ideal accompaniment for chocolate and citrus fruits.
SIMPLE AND QUICK
RECIPE IDEAS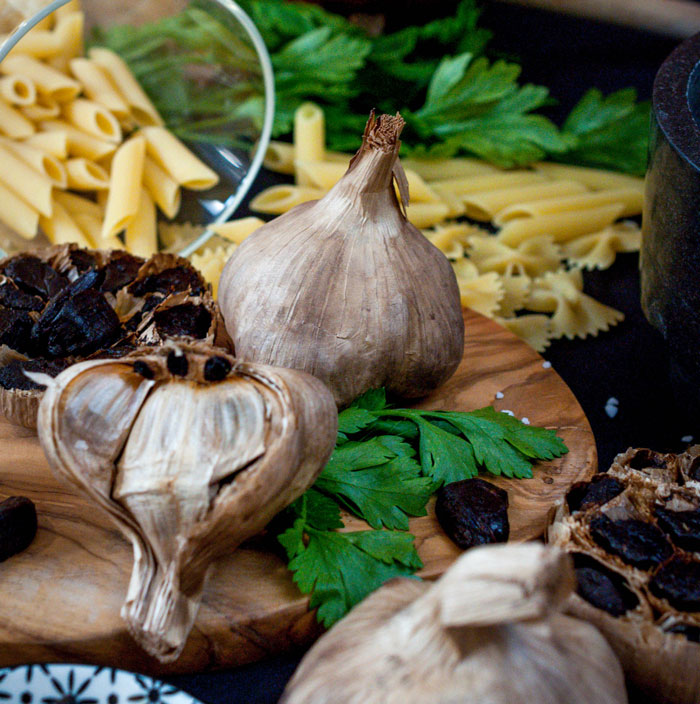 Black garlic and cold meats
Cut thin slivers of black garlic and place 3 onto a piece of buttered toast or use Black Garlic Paste. Add 2 or 3 slivers of radish. Finish with the cold meat of your choice: cooked ham, dried ham, dried sausage, etc.
Cut thin slivers of black garlic and place 3 onto a piece of buttered toast. Add thin slices of cheese. Black garlic pairs especially well with aged cheeses (such as Comté, Beaufort, Abondances), but also goes well with fromage frais.
In that case, crush 2 cloves of black garlic for 100 grams of fromage frais using a fork, then spread the mixture onto your toast.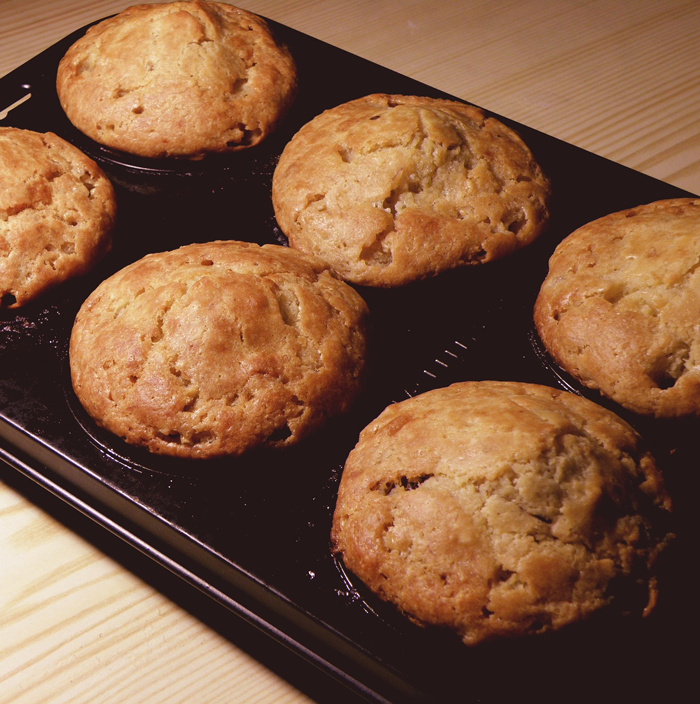 Pork tenderloin with organic black garlic honey
Ingredients:
– Honey with organic black garlic.
– Pork tenderloin
– Garlic
– small onions
– duck fat
1. In a bowl, mix a large spoonful of honey with a large spoonful of duck fat.
2. Brush the tenderloin with this mixture.
3. Leave in the fridge for 2 hours.
4. Peel small onions and add a few cloves of garlic.
5. Take the tenderloin out of the fridge and turn it over several times so that the preparation sticks to the meat.
6. Add the onions around the filet mignon and add 1/2 glass of water.
7. Bake for 1:15 in a 160 degree oven. This long, slow cooking process will preserve the onions and keep the meat moist.
8. Baste the meat from time to time and mix in the onions.
Serve the filet mignon with mashed potatoes and Jerusalem artichokes.
Take a piece of buttered toast
Cut 3 or 4 slivers of black garlic and place them on the toast
Enjoy!
Cut 2 cloves of black garlic per person into small cubes. Heat 20 cl of crème fraiche and add the cubed black garlic. Cover and let infuse over low heat for approximately twenty minutes. (If you have a blender, blend the sauce after 20 minutes for an even more intense flavor.) Meanwhile, cook your pasta in a large amount of water.
Drain the pasta and add in your cream/black garlic sauce.
Enjoy!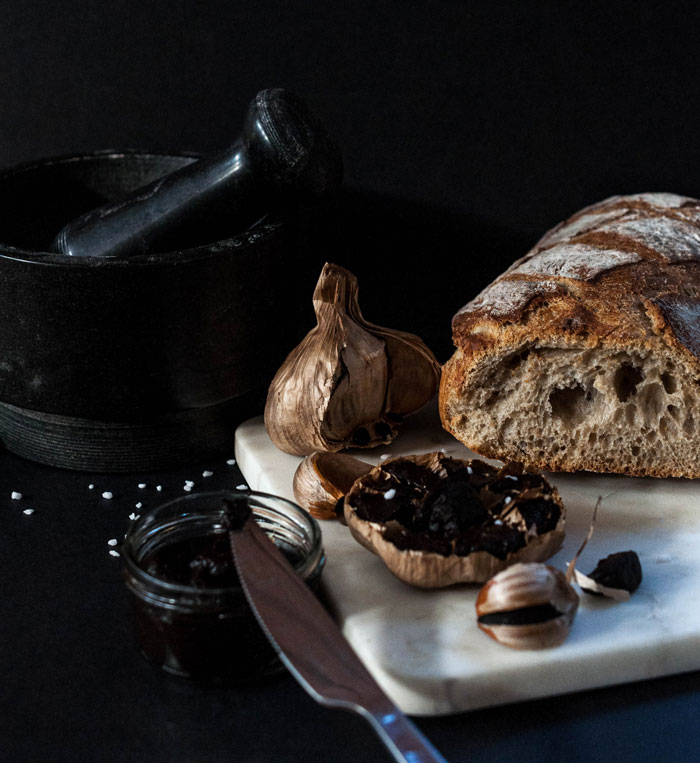 Honey & black garlic Muffins
Ingredients:
– 150g flour
– 20g powdered sugar
– 75g semi-skimmed milk
– 80g organic black garlic honey from L'étuverie
– 1 egg
– ½ sachet of baking powder
– 50g of butter
– 1 pinch of salt
1. Preheat the oven to 200°c (Fan Heat)
Butter and flour the moulds
2. Melt the butter and add the milk, salt and beaten egg. Mix all the ingredients together.
3. In a bowl put the flour, sugar, honey with black garlic and yeast, then the milk preparation.
Mix until you get a smooth dough.
4. Pour the preparation into ¾ of the moulds.
Put in the oven for 15 minutes (200°c).

Wait 15 minutes before unmoulding